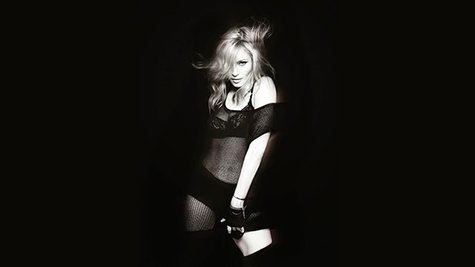 In January, Madonna made an appearance on Miley Cyrus ' MTV Unplugged special. It's possible that their collaboration didn't end there.
Madonna has posted onto Instagram lyrics to a song that may be titled "Rebel Heart." She wrote, "Wash all over me................. #rebelheart."
The most interesting aspect of the post is that Miley and a songwriter with whom the "Wrecking Ball" singer has worked, MoZella , were initially tagged on it, according to MTV . However, the tags have since been removed.
Miley may have dropped another hint regarding a potential duet by uploading a photo of herself wearing a T-shirt that features a naked Madonna. She tagged Madge on the post, too.
Madonna's "Rebel Heart" post includes the following lines: "All of my illusions/could be shattered in a second/You can thread a needle/with a teardrop from my eye."
Earlier this month, Madonna teased on Instagram another song that may be titled "Messiah." She's currently focusing on the follow-up to her 2012 album MDNA .
Follow @ABCNewsRadio Copyright 2014 ABC News Radio