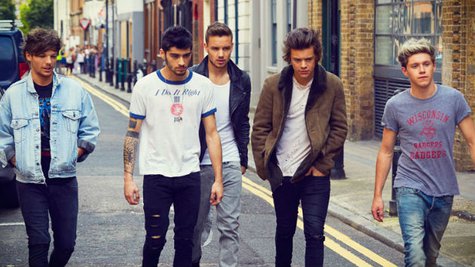 The recently-leaked video showing Louis Tomlinson and Zayn Malik of One Direction seemingly smoking pot has had an unexpected consequence: a Filipino anti-drug group is calling for the band to be drug-tested before they're allowed to perform in the Philippines next year.
According to Inquirer.net , the anti-drug group has asked the Philippine Drug Enforcement Agency not only to insist that all five members of 1D be drug-tested before they're allowed in the country, but also to have anti-narcotic agents monitor them while they perform onstage in Manila in March of 2015.
The anti-drug group's spokesperson said, "If they want the concert to push through, the members should take a drug test as soon as they arrive at [the] airport before us and the media."
Marijuana is illegal in the Philippines, and the spokesperson said that the Bureau of Immigration shouldn't approve visas for "drug addict performing artists" who are coming to the country "just to make money."
1D's Liam Payne , who wasn't caught smoking weed, was still compelled to issue an apology for his band mates' behavior.
He tweeted , "I love my boys and maybe things have gone a little sideways. I apologize for that. We are only in our 20's we all do stupid things at this age. We all have a lot of growing up to do in an extreme circumstance, I'm not making excuses but it's [a] fact -- we are gunna [sic] fall short somewhere."
Follow @ABCNewsRadio
Copyright 2014 ABC News Radio