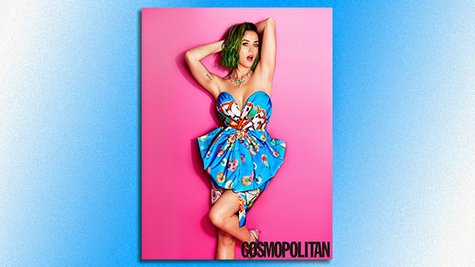 The most ironic thing about Katy Perry taking over the cover of Cosmopolitan's global issue for July, appearing on every single one of its international covers? The fact that as a kid, she was banned from reading the iconic woman's magazine.
"I started reading Cosmo specifically when my mother said I couldn't," reveals Katy in a behind-the-scenes video documenting her cover shoot. Katy, whose parents are extremely religious, laughs, "I didn't really know about the outside world, especially when it came to healthy sexual curiosity. So I was getting a lot of my tips from Cosmo !"
The video shows Katy posing in a variety of outfits to create the 12 different Cosmo covers that hit newsstands worldwide this week, from Lithuania and Great Britain to the U.S., Singapore and South Africa. While there are dozens of international versions of Cosmo , those 12 cover photos of Katy will be repeated on the different editions.
"My [cover] shoot was so fun!" she says. "The clothes, I think, really represented my personality, and how I'm experimenting, and everything's a little bit more electric and colorful."
In other Katy news, now that she's launching yet another fragrance -- Killer Queen Royal Revolution -- what's next for her brand? "[The fragrances] take up a lot of time, but they're a very pleasurable experience. They're very creative," she tells Women's Wear Daily . "I've always wanted to venture into nails, but…it hasn't worked out just right just yet."
"I love to show my personality off, whether it's in the lip color or nail bed," she adds. "It's just like, God is in the details, so I like the little things to be detailed."
Follow @ABCNewsRadio
Copyright 2014 ABC News Radio