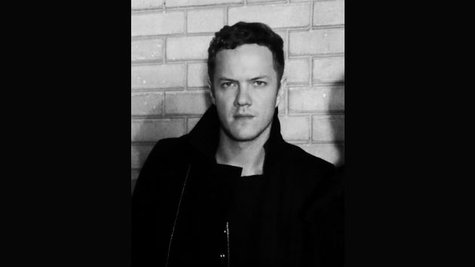 They already have a Grammy and several Billboard Music Awards on their shelf, so what can Imagine Dragons do for an encore? Well, their leader, Dan Reynolds , received a special solo honor Thursday night in New York City at the Songwriters Hall of Fame annual gala.
Reynolds received the Hal David Starlight Award, which is given to annually to a young songwriter who's having an impact on the charts. Thanks to the string of hits Imagine Dragons has scored in the past year, he certainly qualifies, though he told reporters he was humbled by the honor.
"As a songwriter you know, lyrics and melody -- just the simple lyric, melody, chord progression -- has been everything to me and to this band," he said on the red carpet. "We've taken pride in, in writing all our own music and so tonight's an incredible thing...I feel a little overwhelmed amongst all these legendary songwriters that have been around for years, but grateful to be in their presence, and just grateful to be honored like this."
Noting that he and Imagine Dragons are currently working on their second album, Reynolds said the award could be seen as a validation, but also as a reminder not to rest on his laurels. "I feel like tonight you know, it's great -- it's like, 'You did okay! You got a ways to go, but you did okay!' And so it feels great, but we do feel like we still got some learning to do."
While this year's inductees were comprised of legendary figures like Ray Davies of The Kinks, and Mark James , who wrote "Suspicious Minds" for Elvis Presley , some of today's younger performers were also on hand Thursday night to perform at the gala. Aloe Blacc , who was tapped to sing his monster hit "Wake Me Up" to mark the 100th anniversary of the performing rights organization ASCAP, told ABC News Radio, "One of my career goals is to be inducted into the Songwriters Hall of Fame. So to be involved in any capacity is a dream."
At the ceremony, A Great Big World were asked to perform "I'm Not in Love ," a hit by the band 10cc. The band's leader and main songwriter, Graham Gouldman, was being inducted. That song came out in 1975, but A Great Big World's Ian Axel said he knew it -- and was nervous about performing it for the guy who wrote it.
"Oh my God, I mean, I knew the song, I grew up listening [to it], my dad listened to it," he told ABC News Radio on the red carpet. "I never imagined singing it for Graham himself, so I'm a little nervous. But I mean, it's such a beautiful song."
A Great Big World's hit "Say Something" just might end up winning them a songwriting award in the future, and Chad said being at the event really whetted his appetite for an honor like that. "Being at this event definitely makes me want it more. I love this," he told ABC News Radio. "I love being around songwriters. I love fans of songwriters. I love songwriters themselves. I don't know...it feels really good to be here. So if that happens, that'd be amazing."
American Idol season 12 champ Candace Glover was also on hand to induct Jim Weatherly , the man who wrote many hits for Gladys Knight & The Pips , including their signature tune "Midnight Train to Georgia." Candace also sang the song at the ceremony, and she said on the red carpet that she could really relate to the lyrics.
"It's about a guy who went out to L.A. thinking that he was gonna have his dreams come true and found out it's not as easy as you think," Candace told ABC News Radio. "And, who better to sing about that than the girl who got cut twice before she won American Idol?"
Follow @ABCNewsRadio
Copyright 2014 ABC News Radio