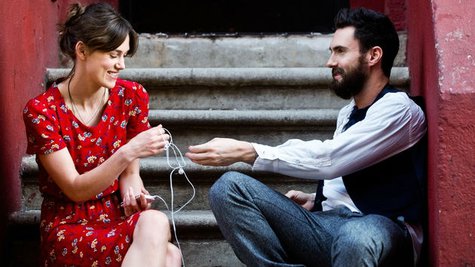 Starring in his first-ever movie, Begin Again , presented a new challenge for Adam Levine . While he plays a musician -- not much of a stretch for him -- he admits that he was quite intimated by the whole process.
In a new featurette for Begin Again , the Maroon 5 frontman says, "The first thing I did, of course, was scour the earth, asking everyone I possibly could for advice on how to act. It is a pretty daunting thing going into this whole new world with celebrated, incredible actors. And it's one of those things where I think to myself, 'What am I doing here?'"
However, he adds, his co-stars -- including Oscar nominees Keira Knightley and Mark Ruffalo -- put him at ease. He says, "Feeling that way allows me to do my best."
In the film, Adam's character, Dave, dumps his songwriter-girlfriend, Knightley's Gretta, after he hits the big time. Gretta goes on to find success after meeting a washed-up record executive, played by Ruffalo.
Begin Again opens in select theaters on Friday before expanding nationwide on July 2.
Follow @ABCNewsRadio
Copyright 2014 ABC News Radio