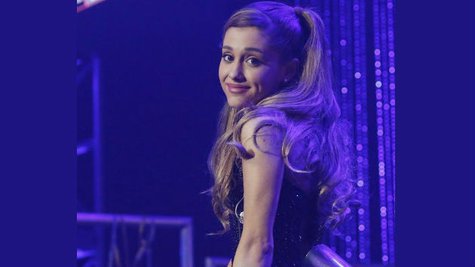 MTV's TRL helped shape the sound of pop music in the early part of the 21st century, and now, it's coming back...for one day only.
The occasion is the release of Ariana Grande 's new single, "Break Free." On July 2, at 7 p.m. ET/PT, Ariana will take over the MTV's Times Square Studio for Total Ariana Live , hosted by Sway Calloway . During her appearance before a live studio audience, she'll perform a stripped-down version of her hit "Problem," debut "Break Free," play some fun music-themed games, talk about her upcoming album, and make a "surprise announcement." If you miss the 30-minute special, you'll be able to watch it online at TotalArianaLive.mtv.com .
"It's a huge honor to be able to bring back a show like TRL, I used to love watching it growing up," said Ariana in a statement. "Can't wait to celebrate with my loves in Times Square. Might have some surprises too."
The head of Ariana's record label added in a statement, "Only one artist has the power to turn the lights back on at 1515 Broadway in the iconic TRL studios, and that's Ariana Grande."
In other Ariana news, she appears to have revealed the release date of her new album. As part of her Twitter countdown to the release of "Break Free," she included the hashtag #61DaysUntil....:)." That would put the release date at or around August 24. That's right around the MTV Video Music Awards, which she no doubt will appear on, so it makes sense to have her album come out then as well.
Follow @ABCNewsRadio
Copyright 2014 ABC News Radio