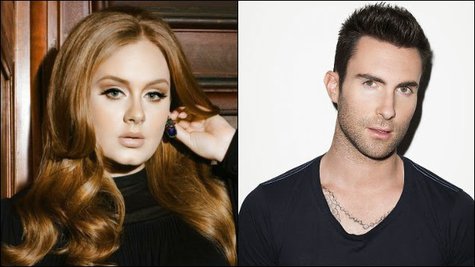 Begin Again, the movie in which Adam Levine makes his big-screen acting debut, arrives in theaters in New York and L.A. on Friday, and opens nationwide next week. Adam's co-star in the film is Oscar nominee Keira Knightley , but the movie's director says if things had been different, there's a chance it could have been Adele .
Begin Again casts Adam and Keira as Dave and Gretta, musicians and college sweethearts who move to New York after he lands a big record deal. After Dave cheats on her and dumps her, she's crushed, until a washed-up record executive spots her singing in a bar and convinces her to make an album with him. Director John Carney , who also directed the music-centric film Once , says initially, he considered casting Adele in the role of Gretta.
"I thought it was kind of an inspired idea to get Adele in the movie at one stage," Carney told ABC News Radio at the movie's premiere. "I would love to make a film with Adele. But for this movie, the guy in the relationship was supposed to be the [one] with the great voice, and the girl was supposed to have a, sort of a more delicate, gentle voice."
Not only that, says Carney, but for the character of Gretta, "It wasn't about her singing, it was more about her songwriting, and Adele has such an incredibly powerful voice that that would be another movie." But would Adele have even taken the role if Carney had asked? "I don't know, actually," he laughs. "I have no idea, but I'm happy with Keira."
It was also Carney's idea to cast Adam as Dave, and the Maroon 5 singer says he jumped at the chance, because he was a fan of Carney's work. Also, Adam says he felt very connected to the part of Dave.
"As far as I'm concerned, it's my struggle with this new-found fame my character has, and and not being able to balance my professional life with my relationship," Adam says of Dave's story arc. "And having been in that position in my life, I obviously was connected to it immediately when John let me know about the script, which I read and absolutely fell in love with.
So, is Adam actually any good in this movie? Well, Carney thinks the singer did a great job, calling him a "natural," and adding, "He brought a lot of himself to the part, but he didn't let it take over the part in any way."
He predicted a bright future onscreen for Adam, saying, "I think he'll just act and act and act in loads of different things." Keira also described Adam "a completely natural performer," calling him "totally lovely" and "great fun to work with."
British actor James Corden , who plays the best friend of Knightley's character, raved at the premiere that Adam is "genuinely brilliant" and "spectacularly good" in Begin Again . But then again, maybe that's because he's in love with the singer...sort of. Asked if he had a "man crush" on Levine, Corden laughed, "Of course! Yeah! I mean, what happened, happened -- we were both drunk and just, you know, we've gotta let it go."
He was joking, of course.
Follow @ABCNewsRadio
Copyright 2014 ABC News Radio