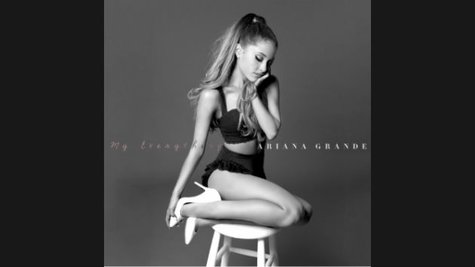 Ariana Grande has now released details of her eagerly awaited second album. It's called My Everything , and it's due August 25. If you pre-order the disc now, you'll get access to exclusive merchandise and video content.
In addition to features from Iggy Azalea and Big Sean , who you can hear on "Problem," Ariana's album features collaborations with The Weeknd , Childish Gambino , A$SA Ferg and Zedd . Harry Styles of One Direction wrote one of the tracks, "A Little Bit of Your Heart," just for Ariana, and another track, "Why Try," was co-written by Ryan Tedder of OneRepublic . The deluxe edition of the album features three bonus tracks, including one described as a "surprise epic team-up."
As previously reported, Ariana will be featured on Total Ariana Liv e, an MTV special, on July 2. She'll debut her new single, "Break Free," during that special. On Friday, you can see her on Macy's 4th of July Fireworks Spectacular and on the special VH1 Presents Philly Fourth of July Jam with The Roots .
Here is the standard track listing for My Everything:
"Intro"
"Problem" (feat. Iggy Azalea)
"One Last Time"
"Why Try"
"Break Free" (feat. Zedd)
"Best Mistake" (feat. Big Sean)
"Be My Baby" (feat. Cashmere Cat)
"Break Your Heart Right Back" (feat. Childish Gambino)
"Love Me Harder" (Ariana Grande & The Weeknd)
"A Little Bit of Your Heart"
"Hands on Me" (feat. A$AP Ferg)
"My Everything"
Follow @ABCNewsRadio
Copyright 2014 ABC News Radio