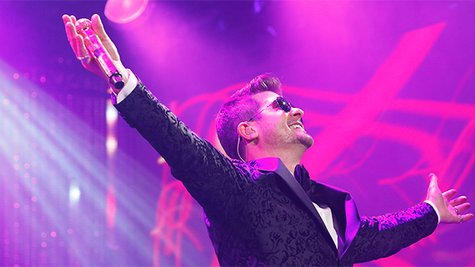 Robin Thicke is giving fans the chance to stream his album, Paula , before it arrives in stores on Tuesday.
The singer announced on Twitter on Monday that the project is available to preview in its entirety via USA Today . The set, which is dedicated entirely to his estranged wife, Paula Patton , includes remorseful song titles like "Too Little Too Late," "Love Can Grow Back" and "Black Tar Cloud."
After performing "Forever Love," at the BET Awards, the singer is scheduled to perform on ABC's Good Morning America , The View and Jimmy Kimmel Live! on Wednesday, July 2. He will also appear CBS Sunday Morning on July 6.
Here's the Paula track list:
"You're My Fantasy"
"Get Her Back"
"Still Madly Crazy"
"Lock the Door"
"Whatever I Want"
"Living in New York City"
"Love Can Grow Back"
"Black Tar Cloud"
"Too Little Too Late"
"Tippy Toes"
"Something Bad"
"The Opposite of Me"
"Time of Your Life"
"Forever Love"
Follow @ABCNewsRadio Copyright 2014 ABC News Radio