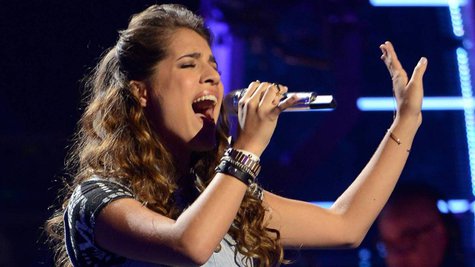 American Idol said goodbye to Emily Piriz on Thursday night. The 18-year-old from Orlando, Florida, was sent home after falling into the bottom three with Jena Irene and MK Nobilette .
Before Emily was dismissed, she attempted to earn the judges' save by singing Grace Potter and the Nocturnals ' "Stars." However, Harry Connick, Jr. informed her that the panel would not be saving her.
Emily had saluted Jennifer Lopez on Wednesday's "Home"-themed performance show with a rendition of "Let's Get Loud."
The musical guests on the one-hour results show were former American Idol winner Phillip Phillips , who performed his new single, "Raging Fire," and the Irish band Kodaline .
Backstage, after her elimination, Emily told ABC News Radio she's grateful for the experience and is going to keep working to become a successful singer.
Ryan Seacrest told ABC News Radio that while standing on stage with Emily during her "Goodbye tape," the singer said her stint on the show was like "a flash of time."
Connick told ABC News Radio backstage that "nobody wants to see anybody go, but it's a competition so somebody's gonna be eliminated." Connick added, "[I]t's a tough thing see, but...the people have spoken."
Jennifer Lopez told ABC News Radio backstage that she "wasn't really happy" with the result and the fact that it was all girls in the bottom three. "I hate seeing three girls in the bottom three the past two weeks...I'm like 'c'mon America.' What's what? We don't like the girls? We love the girls," Lopez said, adding, "I get afraid that we're gonna be like five guys in the final...and no girls there."
Next Wednesday night on Fox, the top 11 will tackle songs from the movies.
Copyright 2014 ABC News Radio