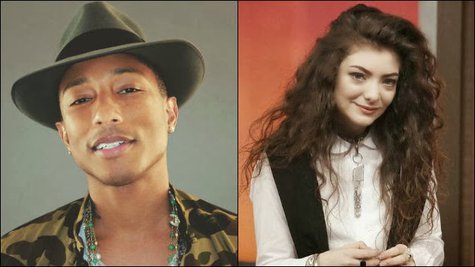 Pharrell Williams has collaborated with a wide variety of artists during his long career, but he's always on the lookout for new people to work with. During a recent appearance on Australian TV, he named Lorde as someone he'd like to team up with, but said he doubts she'd be interested.
Appearing on the Australian TV show Sunrise , Pharrell said of Lorde, "I would love to work with her. She doesn't need me, but I would love to work with her." The always-humble Grammy-winner praised the 17-year-old's music, saying, "When you hear [her], you hear her lyrics, you hear her melody and you hear her music, but you also feel what she's saying."
Well, if he doesn't get a chance to make a record with Lorde, who else would Pharrell like to work with? He mentioned Prince and Eminem , and added, "My son loves Katy Perry , so I suppose that makes all the sense in the world." The singer then took the opportunity to clear up the popular misconception that his five-year-old son is named "Rocketman."
"His name is Rocket. There's no 'man,'" he explained. "Unfortunately, it was something that we couldn't catch up with in terms in the press, they were just like, 'It's Rocketman!' And it's totally not. His name is just Rocket."
Copyright 2014 ABC News Radio