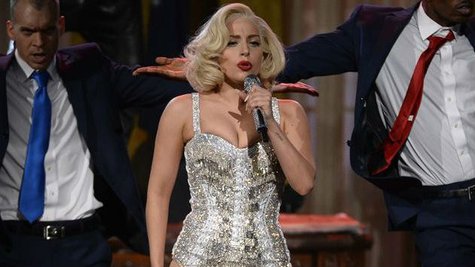 Lady Gaga 's forthcoming tour artRave: the ARTPOP Ball hasn't even begun, but it's already plagued by rumors that ticket sales aren't strong, and the whole thing's a flop. But according to the tour promoter, such rumors are "ridiculous."
Arthur Fogel, the head of the Live Nation's Global Touring division, tells Billboard that in fact, ticket sales for Gaga's North American and European dates are 80 percent sold out. He also reveals that six additional North American shows will be announced in the near future, as well as additional dates in the U.K.
Responding to reports that Live Nation has lost $30 million on Gaga's tour, Fogel tells Billboard , "Just a complete fool would say something like that and it could only come from somebody who has an agenda, because it makes absolutely no sense, on any level." And why is that? Fogel says that if a tour was really doing that badly, the promoter would cancel the whole thing rather than take that kind of financial bath.
"You'd say 'pull the plug,'" explains Fogel, who's promoted huge tours by Madonna and U2 in the past.
Gaga's last two tours, the Monster Ball, which ran from 2010 to 2011 and the Born This Way Ball, in 2012, were extremely successful, and both ended up being among the highest-grossing tours of their respective years.
Gaga will warm up for artRave: the ARTPOP Ball later this month when she performs a series of shows at New York's famed Roseland Ballroom, which will close its doors when she's done. The official tour kicks off May 4 in Sunrise, Florida.
Copyright 2014 ABC News Radio