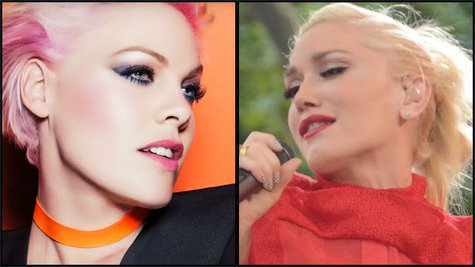 OMG! Pink and Gwen Stefani are totally in a feud because Gwen doesn't want their kids to play together! Except, they're totally not in a feud, and the whole thing is so ridiculous that Pink is now poking fun at it on Twitter.
The rumor went that Pink suggested to Gwen that they get their children together for a play date in Beverly Hills. Gwen, who recently gave birth to a new baby boy, Apollo , also has two older boys, Kingston and Zuma ; Pink has a daughter, Willow . But the rumor stated that Gwen turned down Pink's invitation with a mean email saying, "Not now and not ever."
This evidently didn't actually happen --shocker! -- as evidenced by what Pink wrote on Twitter this week.
"Man I wish @gwenstefani would let our kids play together....," she tweeted, and then added the hashtag, " #dumbsh*tIheararoundtheworld."
Last week, Pink also alluded to the made-up fight, tweeting , "Man, I've been busy this week. Imaginary feuds, lullabies, broken toes and a sick toddler. What's next? :) hopefully pizza and more lullabies."
Gwen so far hasn't commented, but let's face it: with a newborn and two other kids, she's probably a little too busy right now to jump on Twitter.
Copyright 2014 ABC News Radio