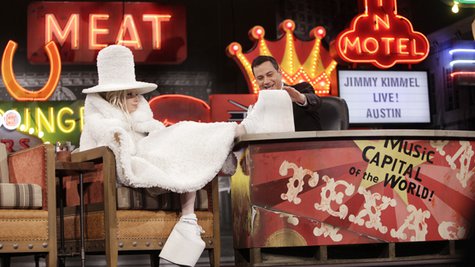 On Thursday night's edition of Jimmy Kimmel Live! in Austin, Texas, Lady Gaga was a guest ahead of her keynote speech Friday at the South by Southwest festival. Wearing a complicated Gareth Pugh -designed dress made entirely of white coffee filters -- and matching nine-inch matching platform heels she referred to as her "hiking shoes" -- Gaga explained the choice of the dress was strategic for the festival. "I wore it because I am really fat right now because I have been eating BBQ...[A]ny meat that I find on the street, I just eat," she laughed.
Gaga said of the fest, "I have had a really great time...I have been going out every single night...and seeing as much music as I can."
She explained that despite her fame, she can sneak about. "I think it's the thing I have missed the most, is going out and seeing live music and going to bars and wandering around unnoticed," she told Jimmy. "To be honest, I don't remember a lot of what happens in the locations -- I just know that I was there."
As for her keynote speech, which she will be delivering with Fuse's Jon Norris , Gaga explained it will be delivered as "a conversation," saying, "I don't really have anything particularly planned that I want to come across...I just want the audience to leave with a sense of a love for music, a love for experiencing live music...I really think that's the heart of this festival."
Copyright 2014 ABC News Radio