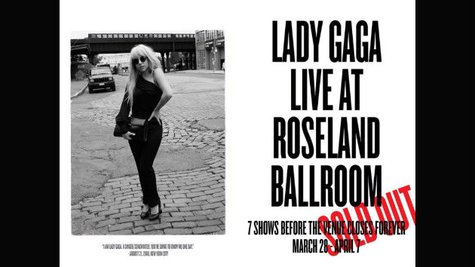 L ady Gaga is going back to her roots to promote her upcoming gigs at New York City's legendary Roseland Ballroom, which will close down after her seven-night run there.
On her social networking site LittleMonsters.com, Gaga has shared an image of the poster promoting the shows, which shows her standing on the street wearing black slacks, a black top, heels and round sunglasses. If that sounds amazingly normal for Lady Gaga, there's a reason, as she explains in her post.
"A stranger took this picture of me in 2008 on the [Lower East Side] in NY, before I was ever a star," she writes . "We found him and used that same photo for my Roseland poster."
Underneath the photo, dated August 21, 2008, is a quote from the then-unknown star. "I am Lady Gaga, a singer/songwriter. You're going to know me one day."
Gaga doesn't explain exactly how she located this mysterious stranger, but it doesn't matter. She'll perform at Roseland starting March 28, with her final show scheduled for April 7. March 28 is, conveniently, the star's 28th birthday. Her official tour, artRave: the ARTPOP Ball, gets underway May 4 in Fort Lauderdale, Florida.
Copyright 2014 ABC News Radio