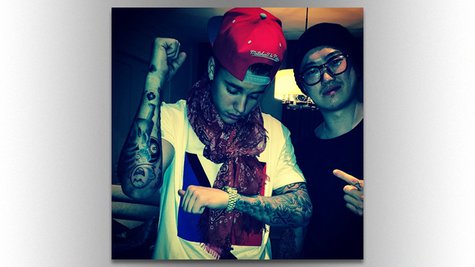 Justin Bieber shared his latest tattoo on Instagram this past Tuesday. The troubled pop star completed his second sleeve on his right arm.
One picture shows 20-year-old Bieber with Toronto-based tattoo artist Seunghyun Jo , along with the caption, "Love!!!! @seunghunjotattoos great job man." The photo shows the outside of the sleeve, drawings of a diamond, a black spade, an 8 ball, an angry version of the Kirby cartoon. There's also a depiction of graffiti artist Banksy 's picture of a little girl reaching out towards a heart balloon.
Another post , captioned, "I Love You Korea," gives a look at the inside of the sleeve, which features a smiling Korean mask, a boom box and the word "Trust" in big letters. They surround two older tattoos Bieber got over two months ago of a jester's head and the word "Love" written in Old English script.
Justin is apparently finished getting tattooed for a while. In a third post, he writes, "Done with tats 4 a while... Where I wanna be.."
Copyright 2014 ABC News Radio