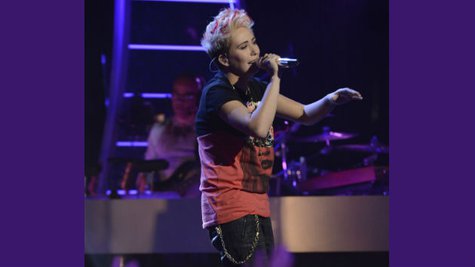 American Idol continues on Wednesday night as the remaining nine contestants take on an "I'm with the Band" theme, where they'll perform as the lead singer of the Idol house band. It's anyone's guess how the performances will go down with judge Harry Connick Jr ., who some feel has been unnecessarily harsh on the contestants. But if you ask the contestants, they'll tell you that Harry's just doing his job.
"We're all pretty good musicians and you have to understand that if they didn't like us then we wouldn't have been there," says MK Nobilette , who was sent home last week. "So the reason they push is to make us better musicians, not anything else than that. So I think we all pretty much understand that."
MK in particular came in for some harsh criticism from Harry, who accused her of looking like she didn't want to be there. But she tells ABC News Radio, "Sometimes things that he says -- and the others judges too -- sometimes what they say, you take it to heart, but...you kind of just have to remind yourself that it's all in good taste."
One of MK's big issues during the show was her stage fright. In fact, she reveals it got so bad that she was actually taking prescription medication -- a type of drug called a "beta blocker" -- to stop it. "They just kind of block your nerves," she explains. "So you just kind of get numb in a sense. But it kind of balances you out because I get so nervous that it just makes me normal nervous." She did stop taking them eventually, she says, because she didn't need them anymore.
While she had problems on stage, MK also was dealing with issues off stage: she'd receive hateful messages online because of her sexuality. "I was ready for that and it did happen," she tells ABC News Radio. "I got a lot of hate, and I got a lot of love, so it was kind of like best of both worlds. I did expect it, though, so...it doesn't really matter. It's also 13-year-old kids who have no lives sitting at their computers typing horrible things." She laughs, "It doesn't really hurt when you put it into perspective."
As for her decision to be the show's first-ever openly gay contestant, MK tells ABC News Radio that she spoke up about her sexuality because at heart, American Idol is just as much about personalities as it is about music.
"When you go into something like American Idol it's not just about your voice, it is about you," she explains. "And it's a reality TV show, so...they want people to know who you are...so they're not just voting for your voice, they're voting for someone who they would like, or get along with, or look up to. And I think that [being gay is] a big part of who I am...I think it's important if America is going to get to know me, then that's one of the things that they should definitely know."
While she may be out of the show now, MK will be back with the rest of the top 10 during the annual Idols summer tour, and she says she and the rest of the contestants are all extremely close, despite their varying backgrounds. It's unlikely that these kids would be friends if they all went to the same high school, for example, but Idol puts everyone on the same level.
"I think that some of us would definitely be friends and some of us definitely not," MK agrees. "But everyone has a really nice big heart. Everyone is open to everything and I think it's pretty great." In fact, she has a very specific and friendly bit of advice for one of the remaining contestants.
"I think Sam [ Woolf ] should definitely wave at his fans more!" she laughs.
Copyright 2014 ABC News Radio