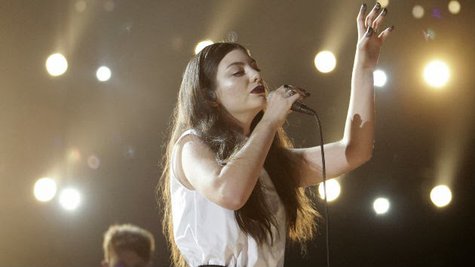 Thanks to the millions of downloads she's sold of her hits "Royals" and "Team," plus the platinum success of her debut album Pure Heroine , Lorde is currently not hurting for money. But the 17-year-old singer from New Zealand says she hasn't really splurged on anything but a place to lay her head.
Speaking to The West Australian , Lorde says, "I bought myself a bed. Like, I don't really splurge or anything...I bought some nice art for my room and I got it framed and stuff so they were kind of splurges I guess."
"The thing with being famous is as soon as you have enough money to buy whatever you want, you get given everything for free, which kind of doesn't make sense to me," the 17-year-old Grammy-winner continues. "It's like 'Why? You can finally get my money and now you don't want it.' That stuff's weird."
Lorde isn't going to see her new bed any time soon, however; she wraps up the U.S. leg of her tour this Thursday and then heads off to South America for some festival dates. While she's now headlined quite a number of shows, the singer admits she still suffers from stage fright, sometimes so bad that it makes her sick.
"I, like, totally threw up before my show last night. I am reduced by nerves," she tells the paper. "I can be completely crushed by feelings of all kinds...I get nervous, I get freaked out, I get, you know, the usual stuff." So how does she deal with that?
"Usually, I just tell myself, 'The second you get up there it's going to be fine', and I always know it's going to be fine and I always have a great time," she explains. "[I] just try and tell myself that 'You'll be in your zone. The lights will be on and...people will be cheering and, you know, it'll be OK.'"
"It's kind of an adrenaline thing I guess," she adds. "I get off stage and I'm kind of jittery...You definitely have to come down from it but it's nice. It's definitely feeling like a really comfortable place for me now."
Copyright 2014 ABC News Radio