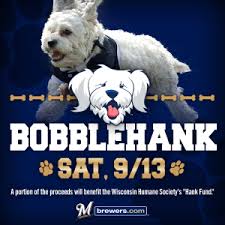 MILWAUKEE, Wis. (WSAU) -- The Brewers and their new mascot are giving a whole new meaning to the dog days of baseball.
The franchise announced that Hank, the dog that wandered into spring training and has become adopted by the team, is getting his own bobble-head doll. Brewers fans are likely to pack Miller Park for Hank's bobblehead night September 13th when the Brewers play the Cincinnati Reds.
Hank made the move from Arizona to Milwaukee, and is now living with the family of a club executive.
Part of the ticket sales from the bobble-head night will go to the "Hank Fund" at the Wisconsin Humane Society. The Brewers will also hold an adopt-a-pet event at the ballpark that night.