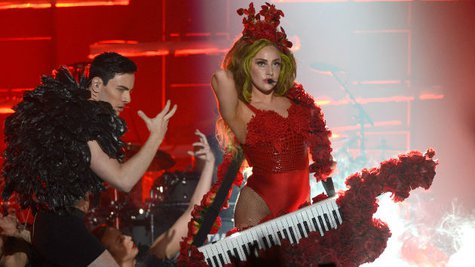 Lady Gaga celebrated her 28th birthday on Friday by performing onstage in her favorite city -- New York -- at one of her favorite venues: the legendary Roseland Ballroom. The club will close its doors forever when she completes a seven-night run of shows there April 7th. Friday night's hour-long show featured many costume changes -- six, according to the New York Daily News -- as well as the singer's biggest hits.
The paper reports that in tribute to the venue, all of Gaga's outfits incorporated roses in some way, and E! reports that she made her entrance wearing a nude bodysuit with roses strategically covering her naughty bits. According to the News, Gaga opened the show with a dramatic ballad version of "Born This Way," during which she threw in the lyrics, "I love the Roseland."
According to the New York Post , her onstage set decor included a mock New York City subway train, and various neon signs. One of them, "176 Stanton Street," is the address of the building on the Lower East Side where the singer lived, pre-stardom.
Here's the set list for the show, according to Setlist.fm :
"Born This Way" (acoustic)
"Black Jesus † Amen Fashion"
"Monster"
"Bad Romance"
"Sexxx Dreams"
"Dope"
"Yoü and I"
"Poker Face" (acoustic)
"Just Dance"
"Applause"
Encore:
"G.U.Y."
Copyright 2014 ABC News Radio