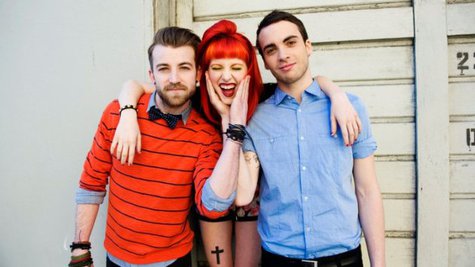 At this point, you've been hearing Paramore on the radio for so long that you figure they must've scored a string of top 10 hits, right? Well, believe it not, they've never gotten that high on the chart...yet. Thanks to " Ain't It Fun ," though, the group has finally landed its first-ever top 20 single on the Billboard Hot 100. But is Paramore really a pop act anyway? Aren't they more like a rock band? Lead singer Hayley Williams says she doesn't want their music to be categorized as either one.
"It's not tough for us, but, yeah, it seems like people have a hard time when they can't fully put us somewhere, in a box, you know," Hayley tells ABC News Radio. "And I like being that band. I like being able to keep people guessing." She laughs, "Y'know, whether or not that's the best thing for our career or not....who knows?"
Hayley says one thing is for sure: the band's ability to move between the worlds of rock and pop allows it to do things that other acts just can't pull off.
"It's nice that we can go to Europe and we can play shows with metal bands and then come to America and play [the] Teen Choice Awards," she explains. "I think that's something not a lot of bands these days are getting to experience, and for me that's what it's all about."
Before "Ain't It Fun" jumped from #21 to #14, becoming Paramore's first top 20 hit, Hayley herself had already made one trip there: "Stay the Night," her collaboration with Zedd , reached #18 last year. She's also visited the top 10 without the band: "Airplanes," her smash single with B.o.B , climbed all the way to #2 in 2010. The band, meanwhile, previously got to #24 with "The Only Exception" and "Still Into You."
"We are from the Warped Tour world," says Hayley. "And somehow, we've made it enough to be able to write pop songs and have it work out that we get on the radio every now and then! To me that's, like, the coolest thing."
Paramore also has celebrated another milestone: Hayley tweeted that Friday, May 2, marked the 10th anniversary of the band's very first gig, at a place called The End in Nashville, TN. She added the hashtag "doubledigits" to note Paramore's longevity. The group will kick off a co-headlining tour with Fall Out Boy this summer. Dubbed the "Monumentour," it gets underway June 19 in Hartford, Connecticut.
Copyright 2014 ABC News Radio