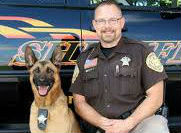 STEVENS POINT, Wis. (WSAU) -- The arrival of another police K9 officer is only a few days away.
Portage County Sheriff's Department Chief Deputy Daniel Kontos says their department's second dog is coming Friday. "Deputy John White, our new K9 handler, and his partner "Lady" are in Indiana right now. We're expecting them back on the 9th of May."
Kontos says the department currently has just one dog, and that's Baco. With Baco and his handler Deputy Daniel Wachowiak scheduled to be on a week and then off a week, they often get called in for extra duty. Having deputy White and Lady will have an immediate impact. "Everyday, we will have a dog that's scheduled to work, and it will certainly reduce the amount of times that we have to call a dog handler in off-duty."
Kontos says the general public knows the dogs are useful for sniffing out drugs, but he says they have many situations where having a trained police dog is beneficial. "The handlers not only perform regular patrol duties, just like a regular deputy does, they also go out and assist with search warrants, they assist with lost people, and they also do a lot of public presentations that they do on their off days, so certainly, it will help us."
The chief deputy says there are no immediate plans to add a third K9 to the department at this time.
(Listen to our interview with Chief Deputy Daniel Kontos on our website, here.)