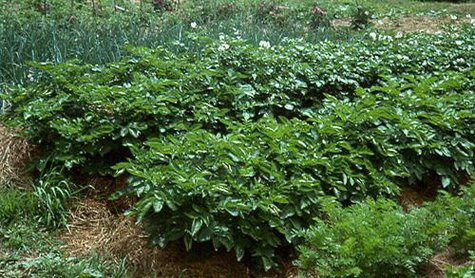 UNDATED (WSAU) -- The economic impact of potato and vegetable production in Wisconsin is huge, and it's another reason farmers are anxious for the fields to dry out enough to begin planting.
Tamas Houlihan is the Communications Director for the Wisconsin Potato and Vegetable Growers Association. Houlihan says you might be surprised by how much food is grown right here in Wisconsin. "Wisconsin leads the nation in the production of snap beans for processing, as well as carrots for processing. We're also number one in the nation in the production of beets for canning, cabbage for kraut, we're number two in green peas, and third in sweet corn."
During the summer, it's hard to drive anywhere in central Wisconsin without finding a potato field, or large fields of the common vegetables you might grow in your garden. "Portage County is definitely the largest producer of potatoes in Wisconsin. When you start talking the processing crops like snap beans, peas, sweet corn, we expand a little bit and say it's the central sands region, which would include Portage, Waushara, a little bit in Marathon, as well as Adams and Juneau counties."
Houlihan says the crops grown here attracted food processors including Del Monte's canning plant in Plover, and McCain Foods west of Plover. He says the processors save freight costs by processing close to the production fields.
Wisconsin is known as the dairy state, but Houlihan says Wisconsin is 2nd in the nation overall for production and value of processed vegetables. "There's about eight different vegetables that get lumped into this categorical listing, and it includes everything from lima beans to snap beans and carrots and sweet corn, cucumbers for pickles, peas, spinach, and tomatoes, but when you look at that, only California has more production in value of those crops than Wisconsin."
Wisconsin is third nationally behind Idaho and Washington in potato production.
The late winter and wet spring is slowing down the planting process, which shortens the growing season. Houlihan says the economic impact to central Wisconsin is about 300 million dollars each year.