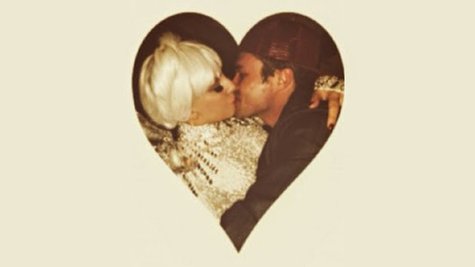 When a singer dates an actor, you gotta figure their lives are anything but normal. But according to Lady Gaga 's boyfriend, Chicago Fire star Taylor Kinney , he and Gaga enjoy doing all the same things that normal couples do...except she looks a bit more fashionable while doing them.
Talking to Glamour about what he and Gaga do when they go back to his hometown of Lancaster, Pennsylvania, Kinney says, "We'll hike together. I'm always giving her flak, like, 'Babe, you can't wear your heels when we're hiking.'"
Kinney adds that he and Gaga have been "painting a bunch lately too." When asked what it is that they paint, Kinney says, "I can't tell you -- I'll have to leave it up to the imagination. There's a lot of laughing. I think that's the basis of a healthy relationship. We laugh a lot."
When asked how they deal with being under the media spotlight -- and the constant chatter that they're going to get engaged or married -- Kinney says, "I have no desire to talk about rumors. But I think we just complement each other. I'm proud of her, and I'd like to believe she's proud of me. We're kindred spirits."
Meanwhile, Gaga took to Twitter recently to answer some of her fans' questions about her recently launched artRAVE tour. When asked if she plans to release a live DVD documenting the tour, Gaga replied, "Yes!" When asked what she feels like when she's dancing on the runway part of her stage, she answered , "like I'm 1000 ft tall and dancing on a diamond sheet on a planet called venus in space ruled by a seashell bikini girl."
Copyright 2014 ABC News Radio