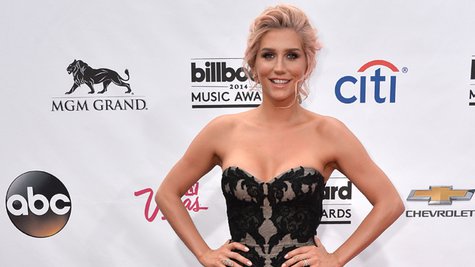 While seemingly every big music star on the charts today appeared onstage at the Billboard Music Awards on Sunday night, not many of them made the trip backstage to speak to the press -- and the night's big winner, Justin Timberlake , wasn't even in the country.
The big news was, of course, the hologram of Michael Jackson , which performed "Slave to the Rhythm." Everyone in the press room and the audience was amazed by the performance, and even Michael's brother, Jackie Jackson , couldn't believe his eyes. "My eyes got kinda teary to see him walking around like that," he told ABC News Radio backstage. "It was so real." He added, "I think fans will be satisfied to see something like this...they did a wonderful job. I thought the performance was superb."
L.A. Reid, the man who oversaw the production of the King of Pop's posthumous album XSCAPE , addressed the fact that not all the Jackson siblings were on board with the project. "Music isn't made at the family dinner table and you get everyone's input," he explained. "It's a very personal experience. So my hope is that everyone in the family will enjoy it and appreciate it and understand why we did this." As for whether or not Michael would approve of his unfinished songs being released and the hologram performance, Reid said, "What we tried to do was to make Michael proud, and really to honor his legacy, and make sure that everyone knows that he's still the greatest."
Imagine Dragons took home five awards, second only to Justin. The win was especially sweet, since the band hails from Las Vegas. "It was great, we drove right over here from our house," said frontman Dan Reynolds . "Everybody was complaining about how hot it was, and we were like, 'This is a very cold day in Las Vegas! This is sweater weather. So we're loving it here. I mean, we love Las Vegas, we get to come right over here and have a wonderful night like this."
Carrie Underwood took home the Milestone Award, the only one that was fan-voted. "It's always a wonderful surprise when my name is called, and I know my fans love to vote and they're so supportive," she noted. Carrie and Miranda Lambert debuted their new collaboration "Somethin' Bad" on the show, and Carrie said, "It was so much fun...I felt like we got to be strong women onstage and feed off each other, and it was just a great performance in my head! I hope I go back and watch it and think that still!" Carrie also said work on her new album was looking "really good."
Florida Georgia Line won for their smash hit song "Cruise," which was both a country and a pop hit. Backstage, the group's Tyler Hubbard said the band enjoyed the show's mix of different genres. "For us, growing up listening to country radio, pop, rock, Christian, everything, all across the map, it's the coolest thing to see so many amazing people gather for one common goal and one common love and that's music." The duo also said they were expecting to release a new album in October.
Josh Groban , Ludacris , Kesha and Brad Paisley -- the host and expert panel, respectively, for ABC's new singing competition Rising Star, came backstage collectively. Kesha, who was in rehab earlier this year for an eating disorder, looked gorgeous, with blonde updo streaked with pink, and a strapless, cleavage-baring black gown with a long train. The four stars, who all seem to have great chemistry, spoke a bit about the show, which will debut in June, but of course, the Michael Jackson hologram came up. "That was the best, and the highlight of the show for me," said Luda. "I agree," Kesha chimed in. "It sent chills down my spine," he added. "Me too!" Kesha said.
Winner and country superstar Luke Bryan said, "I've learned that the right amount of drinks chills you out for award shows so, there's a perfect little threshold. So yeah, we keep it a little under the chair." He also spoke about bringing his kids with him to Vegas and attempting to explain Sin City's appeal to them. "I was like, 'You know how y'all love Disney World? Well, Vegas is mommy and daddy's Disney World. So they kinda understood after that!"
Follow @ABCNewsRadio
Copyright 2014 ABC News Radio