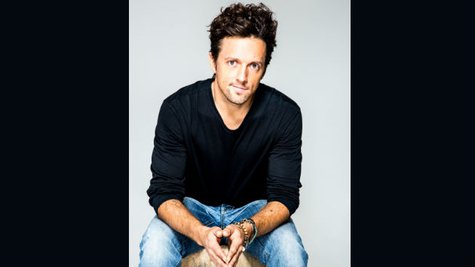 More details are expected to come later today, but Jason Mraz has revealed some details about his long-awaited new album, which is apparently titled Yes!
On Facebook , Jason wrote, " Meet the Ye s! album cover ," adding the hashtag #summerofYES! The artwork is very simple: against a white background, there's a circle in which we see some silhouettes of seagulls flying against a cloudy yet starry sky.
On his website, Jason also posted the track listing for the disc. So far, there's no release date, but his recent use of the #summerofYES! hashtag indicates that it'll arrive at some point in the next few months. Jason worked on the album with the members of the band Raining Jane .
Yes! will be Jason's fifth studio album, and the follow-up to 2012's Love Is a Four Letter Word , which contained the hit "I Won't Give Up."
Here's the track listing for Yes!:
"Rise"
"Love Someone"
"Hello, You Beautiful Thing"
"Long Drive"
"Everywhere"
"Best Friend"
"Quiet"
"Out of My Hands"
"It's So Hard to Say Goodbye to Yesterday"
"3 Things"
"You Can Rely on Me"
"Back to the Earth"
"A World with You"
"Shine"
Follow @ABCNewsRadio
Copyright 2014 ABC News Radio
The new @jason_mraz YES! album cover we designed under @jeff_uprising 's creative direction! Much much more to come... pic.twitter.com/OntGWdZgUj

— Uprising Creative (@uprising_create) May 15, 2014