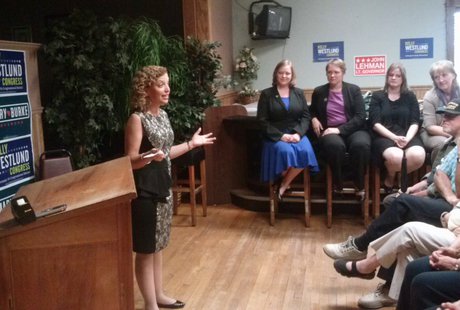 WAUSAU, Wis. (WSAU) -- State and national Democrats were in central Wisconsin both for the opening of the new Obey Center, but also to rally their party in northern Wisconsin.
National chairwoman Debbie Wasserman-Schultz joined state and local Democrats at a rally at the Wausau Labor Temple on Wednesday, and was joined by Milwaukee Congressperson Gwen Moore, and officials from the Wisconsin Democratic Party including chairman Mike Tate and former assemblywoman Donna Seidel.
Wasserman-Schultz says the national parties couldn't operate without local help, and that they wanted people manning their stations these last 61 days before Election Day. "I run every two years myself, and I can assure you that without the state party, without knowing we have that grassroots network of the volunteers on the ground, knocking on the doors and making the phone calls... without you, you're the glue, there's no question about that."
Wasserman-Schultz went on to say that Democrats will be pushing at Republican strongholds this fall and making inroads in northern districts in the state. "The doors don't get knocked on, the phone calls don't get made, unless we're out there rapping our knuckles on those doors until our fingers bleed."
State assemblywoman Mandy Wright says north central and northern Wisconsin residents need to be more aware of choices made at the state level. "I think if more people understood what happened in Madison and how it disproportionately affects rural Wisconsin, usually in the negative, we've seen very little job growth, our schools are struggling, there's a real lack of access to health care, more people would understand and vote Democratic in rural Wisconsin." Chief among the topics on her mind as a former teacher is the way that cuts in education are affecting taxpayers. "If the state doesn't appropriately fund their schools, then the school district is forced to raise their property taxes. Sometimes by referendum, sometimes just by raising the levy limit."
Wright has been critical of how the state funds school districts, and also of how Act 10 changes have impacted school budgets. Republicans disagree, saying Act 10 has saved school districts millions, and question why the Madison district is the only district left in the state not using the new tools offered in the bill.