« Shows & Personalities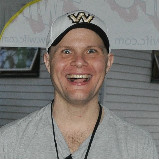 Jimmy Bodean
On Air:

Overnights & Weekends
Hometown: Rosholt, WI

Hobbies: Watching TV, Movies, Sports & Reading. In short...Nothing! OK, once in a while I'll go walking or bike riding..but not very often!
Since I'm on the subject of hobbies...

-Favorite Movie(s): Star Wars movies, Indiana Jones movies, Citizen Kane, It's A Wonderful Life, Love Actually, The Christopher Nolan directed Batman movies and many more but it would take up the whole page if I put ALL of my favorite movies here!
-Favorite TV show(s): The Late Show with David Letterman & Conan
-Favorite Sport: Football (Favorite Team..Green Bay Packers)!
-Favorite Author: Stephen King
-Favorite Food: Almost anything!...But if I had to choose one Pizza!