« back to Movies
Dino Time
Release Date: Dec. 7, 2012
Genres: Animation
Cast: Jane Lynch, Rob Schneider, Melanie Griffith, Tara Strong, Pamela Adlon, Stephen Baldwin, William Baldwin, Yuri Lowenthal, Jessica Di Cicco
Directors: Yoon-suk Choi, John Kafka
Official Site: http://www.dinotimemovie.com/
Distributor: Clarius Entertainment
When a daredevil kid named Ernie, his sister Julia, and his best friend Max are horsing around in Max's inventor father's workshop, they accidentally trip a time-machine into operation and find themselves transported back in time 65 million years, where they meet a T-Rex named Tyra and her rambunctious dinosaur son Dodger. The unlikely group find themselves on an amazing adventure exploring the lush prehistoric jungle, despite Tyra's evil dinosaur rivals conspiring against them - while, back in the present day, Max's dad and Ernie and Julia's overprotective mom plot their rescue.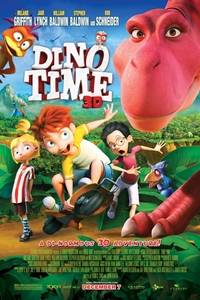 Show Times / Buy Tickets
There are no current showings for Dino Time in this area.