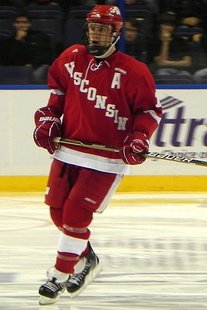 MADISON, WI (WSAU) The Wisconsin men's hockey team lost a home game against Minnesota State-Mankato for the first time in eight contests Friday night. A goal at 5:48 of the final period broke a 2-2 tie, then the visitors added an empty-net goal with less than a minute to go.
The 4-2 loss means the Badgers are winless in three home games this season. Ryan Little and Michael Mersch scored for Wisconsin. The Badgers record is now 1-6-2, including 1-4-2 in WCHA play. Alev Kelter and Brianna Decker scored two goals each as the Wisconsin women's hockey team rolled past St. Cloud State 6-0 Friday. Alex Rigsby stopped 19 shots while collecting her fourth shutout of the season.
Decker's second goal was the 100th of her career in Madison. Wisconsin outshot the visitors 49-19. The Badgers will go for the weekend sweep in a 2 p.m. game today at LaBahn Arena on the UW-Madison campus.