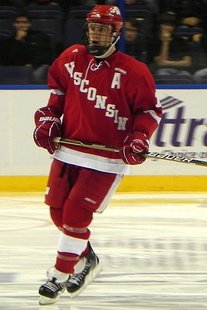 UNDATED (WSAU) The best way to win a game is to keep the other guy from scoring at all. Going on a road trip, the Wisconsin men's hockey team blanked the Bulldogs of Minnesota-Duluth, 2-0.
It was the Badgers' first victory of the season. Wisconsin had led in each of its first two losses, but single goals in the first and second periods stood this time.
Goalie Joel Rumpel stopped 29 shots in the fourth shutout of his career. Tyler Barnes put the Badgers on the scoreboard first with a goal at the 4:49 mark of the first period. Then, Michael Mersch scored an insurance goal at 5:52 of the second period. Mark Zengerle and Jake McCabe added two assists each.
All the Badger scoring was done by underclassmen. Rumpel preserved his shutout by stopping 11 Bulldog shots in the scoreless final period. Wisconsin's first win also came in its conference opener. The Badgers look for the sweep tonight at 7 p.m. The Wisconsin women's hockey team found the net twice in the first period, then held off New Hampshire for the first win in its new home, the LaBahn Arena. The final score was 2-1.
Karley Sylvester and Brianna Decker gave the Badgers all the offense they would need with the first period scores. Alex Rigsby stopped 29 out of 30 shots by New Hampshire to pick up the victory in goal.
The only score by the visitors came on a 3-on-1 play midway through the final period. Wisconsin's record improved to 4-3-2. The two teams wrap up the weekend series Sunday afternoon at 2 p.m. in Madison.