« Shows & Personalities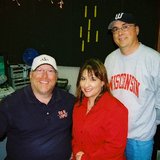 Kallaway on the Rise
On Air:

Weekdays, 5am - 10am

Hosts:

Dave Kallaway, Stacy Cole, Tom King
About the Show

"Kallaway on the Rise" is what Central Wisconsin wakes up to on 95-5 WIFC!! It's Top 40 energy from Dave Kallaway, Stacy Cole, Sports with Tom King.. along with celebrity interviews from Fran Drescher, Jack Black, to Chef Bobby Flay and artists like Peter Frampton, Def Leppard's Joe Elliott, and much, much more.

Kallaway on the Rise is also your ticket to big shows coming to town, fun trivia to wake your brain and when news and weather are the topic..they're on top of it for you. Kallaway on the Rise with Dave Kallaway & Stacy Cole are the heritage radio show for Central Wisconsin..together now for 13 years and going strong!

Show Hosts

Dave Kallaway

Dave started in radio over 30 years ago out in the Black Hills of South Dakota. The son of an Air Force veteran..grew up around planes galore at Ellsworth AFB and caught the radio bug in Junior High and High School. Notes along Dave's career path include working for NBC legendary anchorman Tom Brokaw who owned a radio station in Rapid City, South Dakota.

Dave re-introduced Twinkies to Rapid City years ago after learning that they had been taken off the shelves EVERYWHERE out there. Early on with WIFC Dave did the promotion "Mow to Lambeau" where he actually rode a riding lawnmower from Wausau to Lambeau Field in Green Bay..100 miles. Dave also created WIFC's Disco Cures Cancer..now going strong for 16 years. Plus, Dave is part of the WAOW TV show "PackAttack" through the Packer season. Dave voices the fishing and hunting show with Fishing Hall of Famer Joe Bucher which airs nationally.

Dave's latest venture has taken him into the world of photography. So whether it's a WIFC event, beautiful landscape, taking pictures at the World Snowmobile Championships, or performances at the Grand theater..chances are good you'll see Dave Kallaway with a camera in his hand.

Stacy Cole

Started in radio in 1997 after fumbling around trying to find employment with a Liberal Arts degree in Religion and half a Masters Degree in Creative Writing. Speaking of fumbling, I am a Viking fan. I'm from Minnesota but happy to call Wisconsin my home. And, if you're keeping track, I've been on WIFC since August of 2000!

With three cats, I am on the cusp of becoming a crazy cat lady. My husband says I am at my limit with three but we'll see who wins THAT battle, won't we?

I've lived in Minneapolis, Fargo, and Duluth. I prefer Heinz Ketchup, Lucky Charms, and White Castle sliders to any other food on earth. I'm a licensed nail technician, I've played roller derby (not very well) and I practice yoga. That's me in a nutshell with emphasis on the word, "nut!"

Tom King

Tom grew up in Wausau listening to sports on WSAU and music on our sister stations WRIG and WIFC and decided early on that that was where he wanted to be. After graduating from Wausau East in the mid 70's Tom headed to UWSP. He worked at the college radio station WWSP and weekends on WIFC while earning a degree in Communication.

After college he worked a year at WKAU radio in the Fox Valley before returning to Wausau and moving into radio sales. He missed the on-air work and returned to the air when WOFM went on the air and when it was purchased by Midwest Communications was asked to take on the sports position on WSAU. He has spent the last 13 years as part of the WSAU morning team while also broadcasting Wausau East sports and contributing to the morning show on WIFC.

If you listen to the show you know that Tom is the coach of the Wausau American Legion Baseball team. He's married (Sandy) with two sons (Wade & Cory) and spends his spare time reading, listening to music, watching movies and tv shows and following most of the major sports.